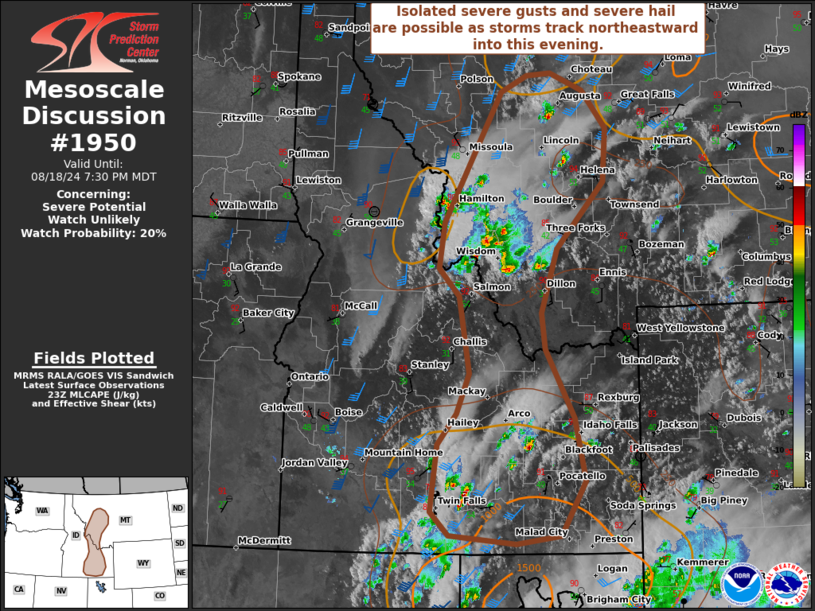 MD 1950 CONCERNING SEVERE THUNDERSTORM WATCH 626… FOR PORTIONS OF EASTERN AL AND WESTERN GA


Mesoscale Discussion 1950
NWS Storm Prediction Center Norman OK
0342 PM CDT Fri Aug 11 2023
Areas affected…portions of eastern AL and western GA
Concerning…Severe Thunderstorm Watch 626…
Valid 112042Z – 112245Z
The severe weather threat for Severe Thunderstorm Watch 626
continues.
SUMMARY…Strong/severe thunderstorms are expected to persist across
WW 626 for the next few hours. Damaging wind gusts and small hail
will be the primary threats.
DISCUSSION…Multiple thunderstorm complexes are currently ongoing
in eastern AL and western GA in WW 626. They have been associated
with both strong/severe wind (primarily tree and power line damage)
and quarter-size hail reports. The leading storm — currently
located in Stewart County — featured a robust mesocyclone for
around an hour before weakening to its current state. The complex in
its wake also contained multiple weaker low-level mesocyclones early
in its evolution, likely due to its formation near/along the remnant
outflow from the morning QLCS (now moving offshore in SC).
The environment ahead of these thunderstorms remains favorable for
damaging wind and hail production. The latest VADs from KEOX depict
modest low-level shear (around 15-20 kts in the 0-3-km layer) amidst
ample MLCAPE (3000+ J/kg). Bulk shear is expected to remain more
marginal however, around 15 kts. This should favor a gradually
congealing system during the next couple of hours. Current
storm-scale trends support this evolution, depicting spreading
outflow and cold-pool deficits around 15 degrees F. This should
yield a gradual transition from a mixed hail/wind threat to more of
a damaging-wind threat for the next few hours across WW 626.
..Flournoy.. 08/11/2023
…Please see www.spc.noaa.gov for graphic product…
ATTN…WFO…JAX…FFC…TAE…BMX…MOB…
LAT…LON 32698620 32578523 32188429 31718320 31348303 30898324
30808406 30968545 31358615 31888638 32418646 32698620