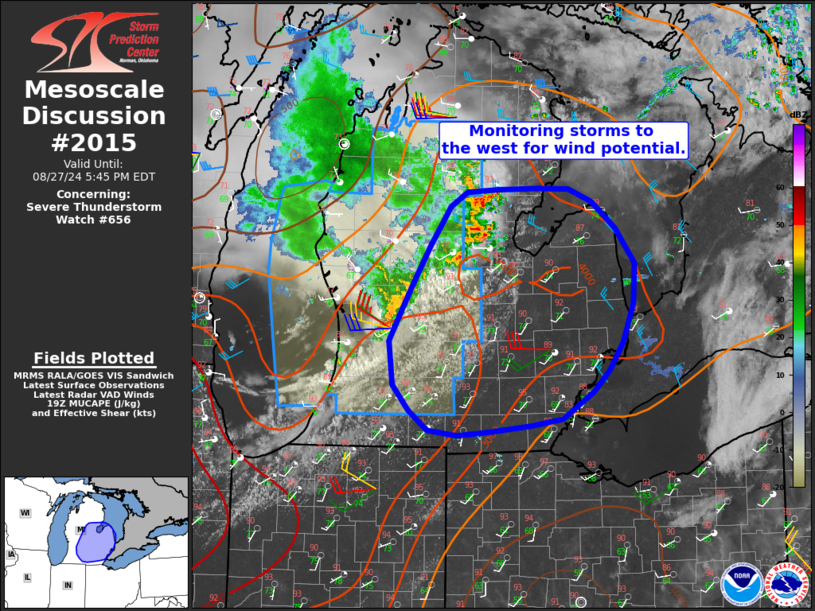 MD 2015 CONCERNING SEVERE POTENTIAL…WATCH UNLIKELY FOR PARTS OF SOUTH-CENTRAL ARIZONA


Mesoscale Discussion 2015
NWS Storm Prediction Center Norman OK
0538 PM CDT Fri Aug 18 2023
Areas affected…Parts of south-central Arizona
Concerning…Severe potential…Watch unlikely
Valid 182238Z – 190115Z
Probability of Watch Issuance…5 percent
SUMMARY…Sporadic strong to severe gusts could accompany any
stronger thunderstorms that develop into the evening. A watch is not
expected.
DISCUSSION…Widely scattered high-based thunderstorms are evolving
westward over parts of southeastern AZ this afternoon, with some
recent evidence of locally congealing cold pools. Additional
thunderstorms are spreading northward across the International
border in southwestern AZ. Subtle backing of 15-20 kt midlevel flow
(per regional VWP data) will allow this activity to continue
spreading/developing west-northwestward through the afternoon across
parts of south-central AZ. The pre-convective environment is
characterized by a hot/deeply mixed boundary layer (and related
steep low-level lapse rates) beneath a plume of rich midlevel
moisture (PW near 1.6 inches per GOES-16 and the latest PHX ACARS
soundings). While modest deep-layer shear (around 20-kt 0-6 km shear
per VWP data) will generally limit updraft longevity and
organization, the deep inverted-V thermodynamic profile will support
strong to locally severe gusts with the stronger storms that develop
into the evening — especially with any localized clusters that
evolve. Overall, the severe threat appears too sporadic for a watch.
..Weinman/Bunting.. 08/18/2023
…Please see www.spc.noaa.gov for graphic product…
ATTN…WFO…TWC…FGZ…PSR…
LAT…LON 31621015 31291031 31271115 31631226 31951334 32271336
32751315 33451272 33871239 34061199 33971114 33581041
32411003 31621015