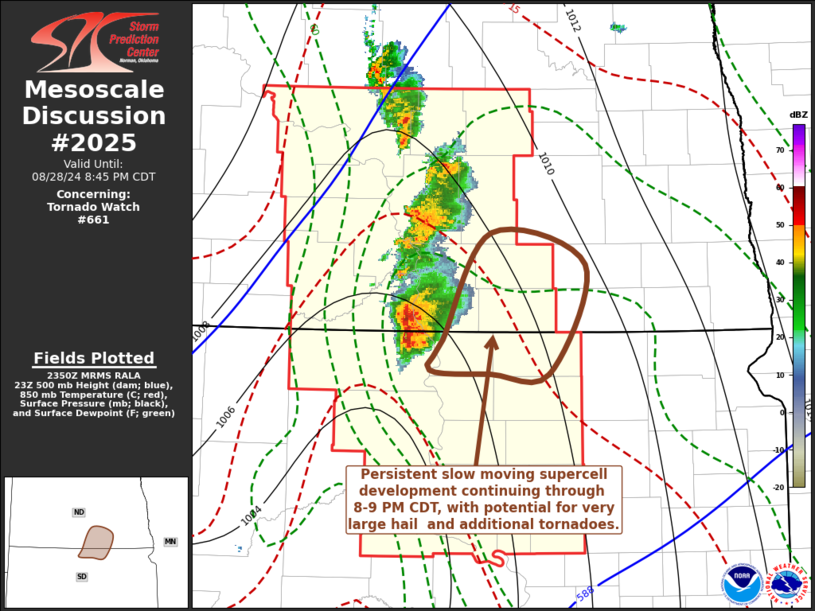 MD 2025 CONCERNING SEVERE POTENTIAL…WATCH UNLIKELY FOR UTAH INTO SOUTHWEST WYOMING


Mesoscale Discussion 2025
NWS Storm Prediction Center Norman OK
0140 PM CDT Tue Aug 22 2023
Areas affected…Utah into southwest Wyoming
Concerning…Severe potential…Watch unlikely
Valid 221840Z – 222045Z
Probability of Watch Issuance…5 percent
SUMMARY…Isolated to scattered thunderstorms will pose a risk of
strong to severe winds through the late afternoon and early evening
hours. Watch issuance is not expected.
DISCUSSION…Over the past hour, occasional lightning flashes have
been observed from a few deepening cumulus towers within a
differential heating boundary draped from northern AZ into southwest
WY. This is amid gradual diurnal destabilization with MUCAPE values
approaching 500 J/kg across the region. Further
heating/destabilization is expected through the remainder of the
afternoon with model consensus suggesting MUCAPE upwards of 1000
J/kg likely by peak heating, despite only modest mid-level lapse
rates. While synoptic-scale ascent remains limited, orographic lift
within the differential heating zone should support an increasing
number of thunderstorms in the coming hours.
Recent VWP observations from KICX and KMTX are sampling 40-50 knot
winds between 7-8 kft AGL, which should be just above the LCL of
most parcels emanating from a well-mixed boundary layer. The
downward mixing of these winds, combined with downdraft
accelerations related to evaporative cooling, will support the
potential for strong to severe wind gusts. However, this will likely
be conditional on storms developing and/or migrating into a deeply
mixed environment. Latest dewpoint depressions and forecast
soundings suggest most areas are not yet sufficiently mixed, but
should become so in the coming hours. Furthermore, effective shear
over the region near 35-40 knots may support transient supercell
characteristics with the strongest cells. Consequently, the
potential for strong/severe winds should increase through the coming
hours, but will likely remain fairly limited in coverage.
..Moore/Grams.. 08/22/2023
…Please see www.spc.noaa.gov for graphic product…
ATTN…WFO…RIW…GJT…FGZ…SLC…VEF…
LAT…LON 36621158 36621207 36961266 37521285 37861278 40491194
41171169 41861116 42011010 41810937 41480888 41130876
39220953 37431009 36811067 36621158