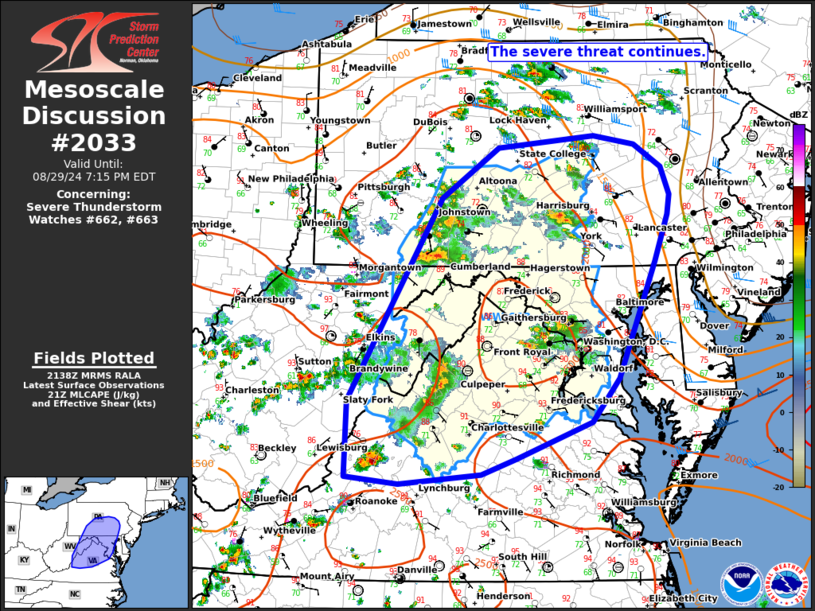 MD 2033 CONCERNING SEVERE POTENTIAL…WATCH POSSIBLE FOR LOWER MICHIGAN


Mesoscale Discussion 2033
NWS Storm Prediction Center Norman OK
1128 PM CDT Wed Aug 23 2023
Areas affected…Lower Michigan
Concerning…Severe potential…Watch possible
Valid 240428Z – 240630Z
Probability of Watch Issuance…40 percent
SUMMARY…Convection is expected to increase across central and
southeast lower Michigan over the next several hours. Some risk for
hail and gusty winds may necessitate the need for a severe
thunderstorm watch.
DISCUSSION…Remnants of a weak short-wave trough have topped the
central US ridge and are now digging southeast across northwest
ON/northern Lake Superior. This feature appears to be aiding a
westerly LLJ across southern WI into southern lower MI where 850mb
flow is now on the order of 25-35kt. While the short wave will prove
negligible in lowering heights across this region, sustained
low-level warm advection is expected to aid strong, to potentially
severe thunderstorms along the eastern edge of a strong cap. Plume
of steep mid-level lapse rates continue to overspread this region
and latest satellite imagery depicts deepening updrafts over
southern Clare/northern Isabella County region. Scattered
thunderstorms should develop over the next 1-2 hours and likely grow
upscale as they spread southeast into the northwestern flank of the
OH Valley MCS. This activity may produce some hail and wind. Will
monitor for a potential severe thunderstorm watch but the primary
risk may continue to be heavy rain as convection grows upscale.
..Darrow/Hart.. 08/24/2023
…Please see www.spc.noaa.gov for graphic product…
ATTN…WFO…DTX…APX…GRR…
LAT…LON 41738349 43838539 44108411 42278232 41738349