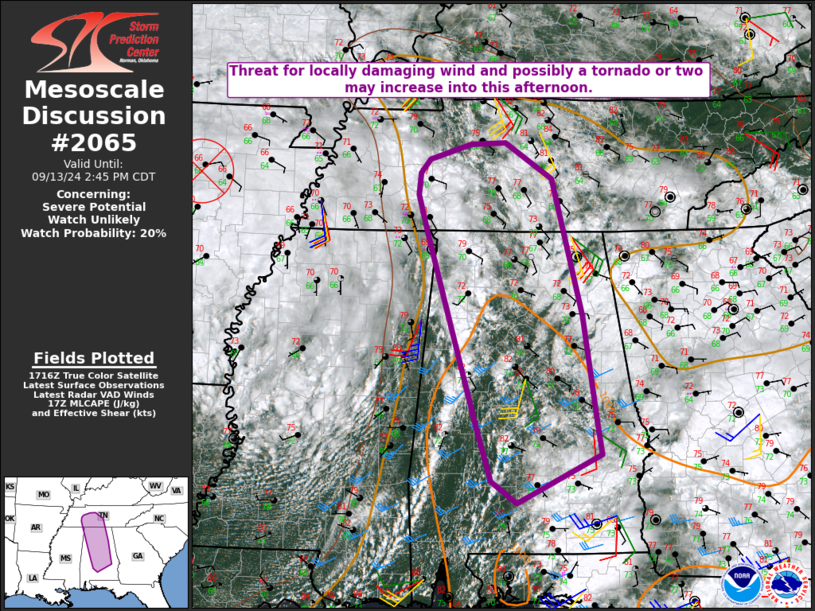 MD 2065 CONCERNING SEVERE POTENTIAL…WATCH LIKELY FOR THE SOUTH CAROLINA AND ADJACENT NORTH CAROLINA COASTAL PLAIN


Mesoscale Discussion 2065
NWS Storm Prediction Center Norman OK
0911 AM CDT Wed Aug 30 2023
Areas affected…the South Carolina and adjacent North Carolina
coastal plain
Concerning…Severe potential…Watch likely
Valid 301411Z – 301645Z
Probability of Watch Issuance…80 percent
SUMMARY…Showers and thunderstorms with a risk for producing
tornadoes appears likely to begin overspreading the South Carolina
coastal plain by 1-3 PM CDT. A new Tornado Watch will likely be
issued within the next hour or so.
DISCUSSION…The circulation center of Idalia is now well inland,
but maintains a north-northeastward migration around 15+ kt. With
this continued motion, it should approach the Waycross GA vicinity
through 17-19Z, with a corridor of downstream near-surface warm
advection overspreading the South Carolina and adjacent North
Carolina coastal plain. This likely will include a tropical moist
boundary layer continuing to spread inland with surface dew points
rising through the mid/upper 70s F. Despite probable further
weakening of Idalia, downstream low-level shear will remain strong,
with RAP forecast soundings exhibiting enlarging clockwise-curved
low-level hodographs coincident with the moistening and
destabilizing boundary layer by the 17-19Z time frame. This
environment will support continuing potential for convection with
embedded low-level mesocyclones with an attendant risk for
tornadoes.
..Kerr/Thompson.. 08/30/2023
…Please see www.spc.noaa.gov for graphic product…
ATTN…WFO…ILM…CHS…CAE…
LAT…LON 32958109 33887993 33847806 33297824 32398014 32178072
32958109