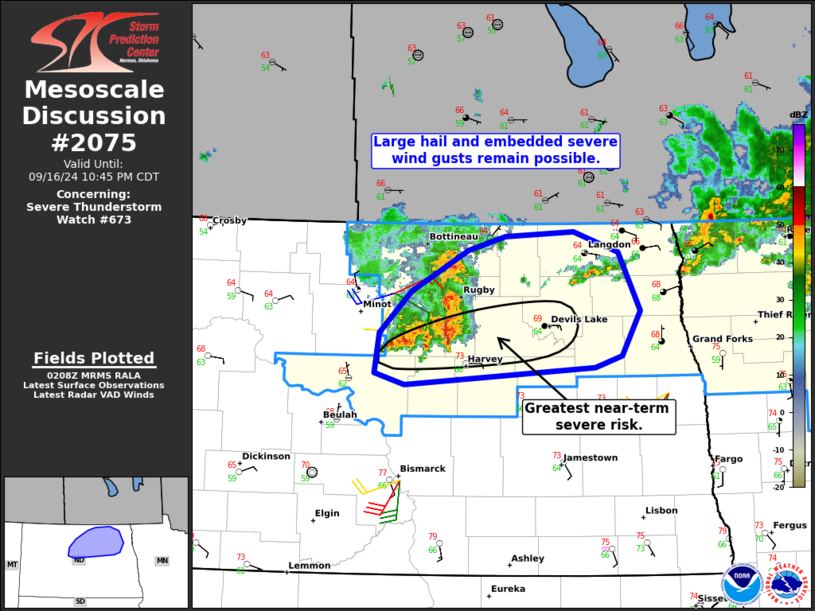 MD 2075 CONCERNING SEVERE POTENTIAL…WATCH UNLIKELY FOR CENTRAL AND NORTHERN NEVADA INTO SOUTHWEST IDAHO


Mesoscale Discussion 2075
NWS Storm Prediction Center Norman OK
0516 PM CDT Sat Sep 02 2023
Areas affected…central and northern Nevada into southwest Idaho
Concerning…Severe potential…Watch unlikely
Valid 022216Z – 030045Z
Probability of Watch Issuance…5 percent
SUMMARY…Strong to marginally severe storms may persist for a few
hours into central and northern Nevada, and possibly into far
southwest Idaho this evening. Hail up to 1.25″ diameter will be
possible, along with sporadic strong gusts.
DISCUSSION…Storms are increasing near the cold front/midlevel
temperature gradient over west-central NV, beneath 35-40 kt midlevel
southerlies. Wind speeds increase further with height, which is
elongating hodographs and supporting a conditional hail threat.
Visible satellite imagery shows clearing/heating ahead of the front,
with low-level theta-e advection present. Given the time of day, a
few hours of strong storms are expected within a corridor from
Lander County NV toward Owyhee County ID through evening. Relatively
cool profiles may preclude much wind threat, unless storms evolve
into small bows. Otherwise, isolated hail of 1.00-1.25″ appears most
likely.
..Jewell/Grams.. 09/02/2023
…Please see www.spc.noaa.gov for graphic product…
ATTN…WFO…BOI…LKN…REV…
LAT…LON 39031771 39791750 40471743 41151743 41841750 42201758
42421737 42551667 42471596 42221569 41651560 40811563
40081584 39571601 38951676 38881748 39031771