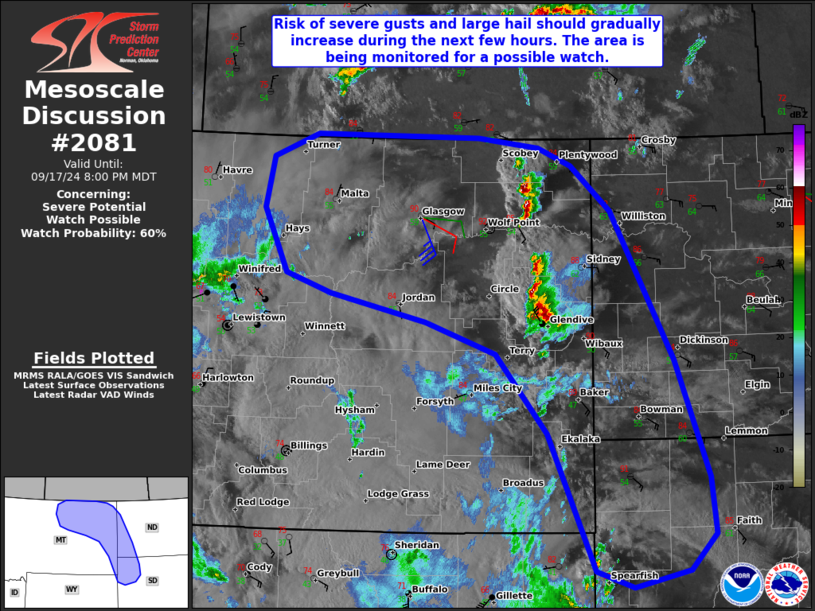 MD 2081 CONCERNING SEVERE THUNDERSTORM WATCH 667… FOR SOUTH-CENTRAL NORTH DAKOTA…NORTH-CENTRAL SOUTH DAKOTA


Mesoscale Discussion 2081
NWS Storm Prediction Center Norman OK
0705 PM CDT Mon Sep 04 2023
Areas affected…South-central North Dakota…north-central South
Dakota
Concerning…Severe Thunderstorm Watch 667…
Valid 050005Z – 050130Z
The severe weather threat for Severe Thunderstorm Watch 667
continues.
SUMMARY…A compact bowing segment will be capable of scattered
severe wind gusts. A more focused corridor of significant winds
(70-90 mph) is also possible.
DISCUSSION…A compact bowing segment continues to move northeast at
around 40-45 kts along the surface cold front. This line is being
aided by a negatively tilted shortwave trough in eastern Wyoming.
Recent mesonet data in South Dakota observed 60-70 mph winds with
this activity. KBIS velocity data shows strong inbound velocities
(around 70 kts at 6500 ft). Given the speed of the line,
convectively augmented severe gusts are probable. A narrow corridor
of significant wind gusts (70-90 mph) will exist and may eventually
impact the Bismarck vicinity in the next 60-90 minutes. Convection
along the southern flank of the bowing segment has not been able to
become sustained, likely in part due to drier air. However, storms
in southwestern South Dakota will continue into central South Dakota
were additional agitated cumulus are currently developing on visible
satellite.
..Wendt.. 09/05/2023
…Please see www.spc.noaa.gov for graphic product…
ATTN…WFO…ABR…BIS…UNR…
LAT…LON 45950252 46450198 47060074 47189976 46999939 46369951
45500075 45400161 45950252