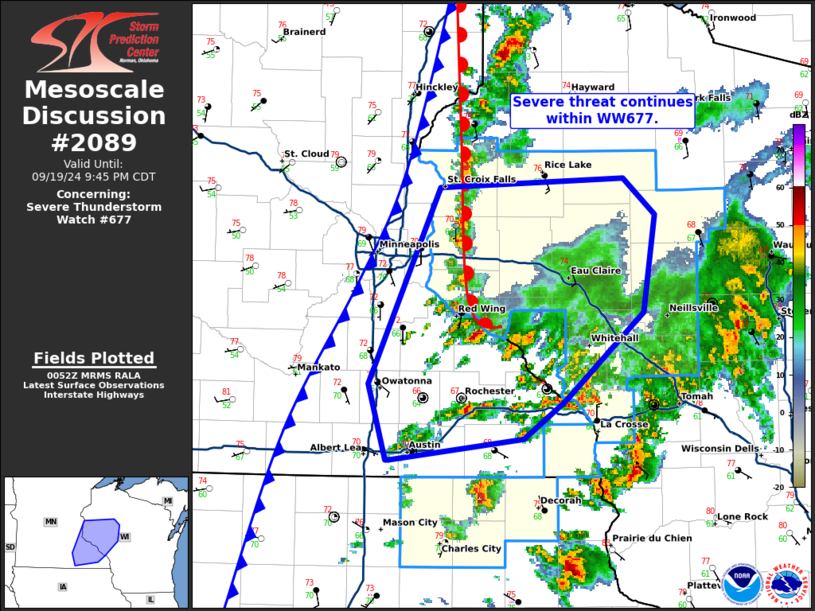 MD 2089 CONCERNING SEVERE THUNDERSTORM WATCH 669… FOR FAR SOUTHEASTERN MINNESOTA…PORTIONS OF WESTERN WISCONSIN


Mesoscale Discussion 2089
NWS Storm Prediction Center Norman OK
0809 PM CDT Tue Sep 05 2023
Areas affected…Far southeastern Minnesota…portions of western
Wisconsin
Concerning…Severe Thunderstorm Watch 669…
Valid 060109Z – 060245Z
The severe weather threat for Severe Thunderstorm Watch 669
continues.
SUMMARY…An isolated threat for large hail (1-1.5 in.) and damaging
wind gusts (50-60 mph) will continue for another hour or two. No
additional watches are planned this evening.
DISCUSSION…The outflow from convection over Lake Superior
continues to push southward into northwest Wisconsin. A few strong
to severe storms could produce marginally severe hail and isolated
damaging winds in the immediate vicinity of the boundary.
Convection within the pre-frontal confluence has remained more
isolated and has generally struggled to mature. There will be a
modest increase in mid-level ascent (and shear) as the trough
continues east. Activity will likely remain isolated, but some risk
for isolated large hail and damaging wind gusts may continue for
another hour or two.
..Wendt.. 09/06/2023
…Please see www.spc.noaa.gov for graphic product…
ATTN…WFO…MQT…GRB…DLH…ARX…MPX…
LAT…LON 43349272 43619280 43919275 44879250 45899235 46729190
46829076 46739006 46368976 45358986 44579033 43709094
43349147 43349272