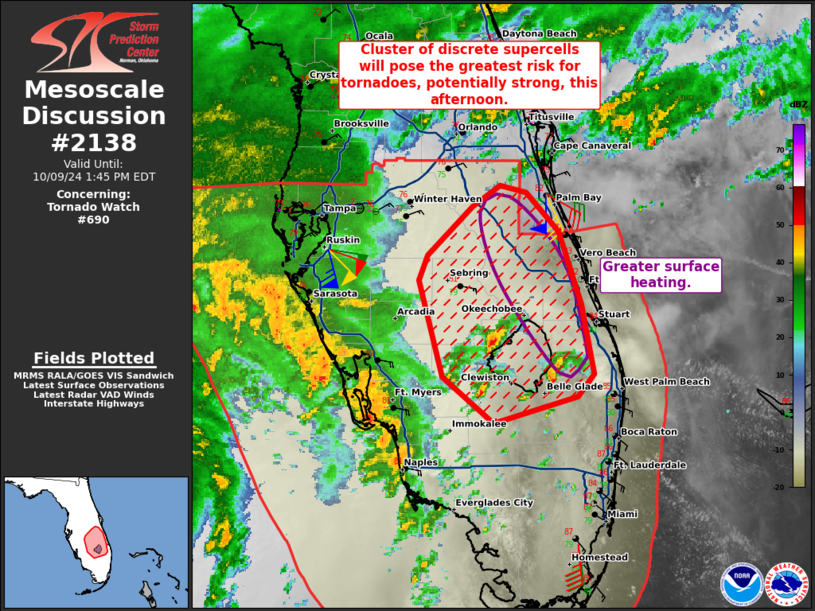 MD 2138 CONCERNING SEVERE THUNDERSTORM WATCH 682… FOR SOUTHEAST NEW MEXICO ACROSS THE SOUTH PLAINS AND INTO PARTS OF NORTHWEST TEXAS


Mesoscale Discussion 2138
NWS Storm Prediction Center Norman OK
0736 PM CDT Mon Sep 11 2023
Areas affected…southeast New Mexico across the South Plains and
into parts of northwest Texas
Concerning…Severe Thunderstorm Watch 682…
Valid 120036Z – 120230Z
The severe weather threat for Severe Thunderstorm Watch 682
continues.
SUMMARY…Widely scattered strong to severe storms producing hail or
damaging gusts may persist for a few hours this evening, primarily
within severe thunderstorm watch 682.
DISCUSSION…Storms currently extend from southeast NM into
northwest TX along an east-west oriented cold front. Surface and
objective analyses indicate around 1500 J/kg MLCAPE south of the
front, extending southward toward the Concho Valley. This
instability plume is relatively limited, and located well west of
I-35. The 00Z FWD sounding shows a relatively deep mixed layer, with
very little CAPE despite precipitable water near 1.75″. Therefore,
although modest northwest flow exists over the region, storms
approaching the eastern edge of WW 682 are not expected to warrant
further watches.
To the west, outflow appears to be increasing as the NM activity
intersects the cold front. Here, mid and high-level flow is
stronger, with steeper midlevel lapse rates as well. Given these
factors, and 1000+ J/kg MLCAPE downstream, a corridor of damaging
winds may materialize over the next few hours. The bulk of this
threat should remain within the southern parts of WW 682, but trends
will be monitored for possible southward extensions in space and/or
time.
..Jewell.. 09/12/2023
…Please see www.spc.noaa.gov for graphic product…
ATTN…WFO…FWD…SJT…LUB…MAF…
LAT…LON 32360452 32930390 33030318 32940219 32950048 33069978
33249925 32919880 32089847 31169891 31180051 31660255
31890366 32360452