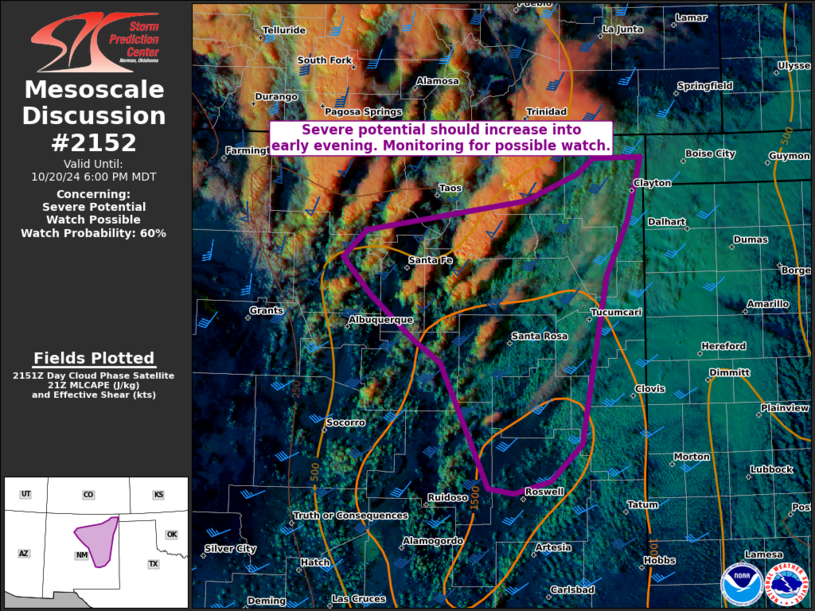 MD 2152 CONCERNING SEVERE THUNDERSTORM WATCH 684… FOR PARTS OF EAST CENTRAL NEW MEXICO INTO PORTIONS OF THE TEXAS SOUTH PLAINS


Mesoscale Discussion 2152
NWS Storm Prediction Center Norman OK
0821 PM CDT Fri Sep 15 2023
Areas affected…parts of east central New Mexico into portions of
the Texas South Plains
Concerning…Severe Thunderstorm Watch 684…
Valid 160121Z – 160315Z
The severe weather threat for Severe Thunderstorm Watch 684
continues.
SUMMARY…A couple of strong storms may continue to pose a risk for
locally severe hail and wind while spreading toward the Texas South
Plains through late evening.
DISCUSSION…The most substantive convective development, including
scattered embedded strong cells, has remained largely focused along
a cold front nosing to the southeast and south of the Sangre de
Cristo Mountains and Raton Mesa vicinity. Activity has been
supported by southeasterly inflow of moist pre-frontal
boundary-layer air characterized by mixed-layer CAPE up to 1000
J/kg, and this may maintain isolated to widely scattered strong
storms at least into the 02-4Z time frame.
A belt of 30-50 kt westerly flow in the 500-300 mb layer is
contributing to sufficiently strong shear for occasional supercell
structures. However, due to generally light easterly to
southeasterly flow in lower levels, rightward/southward storm
propagation is rather modest (around 20-25 kt). Even so, the
environment probably remains marginally supportive of locally
damaging surface gusts (aided by precipitation loading), in addition
to severe hail, in the stronger storms.
..Kerr.. 09/16/2023
…Please see www.spc.noaa.gov for graphic product…
ATTN…WFO…LUB…AMA…ABQ…
LAT…LON 35510404 35580356 35270227 34610109 33630134 33810245
34050318 34630397 35040459 35510404