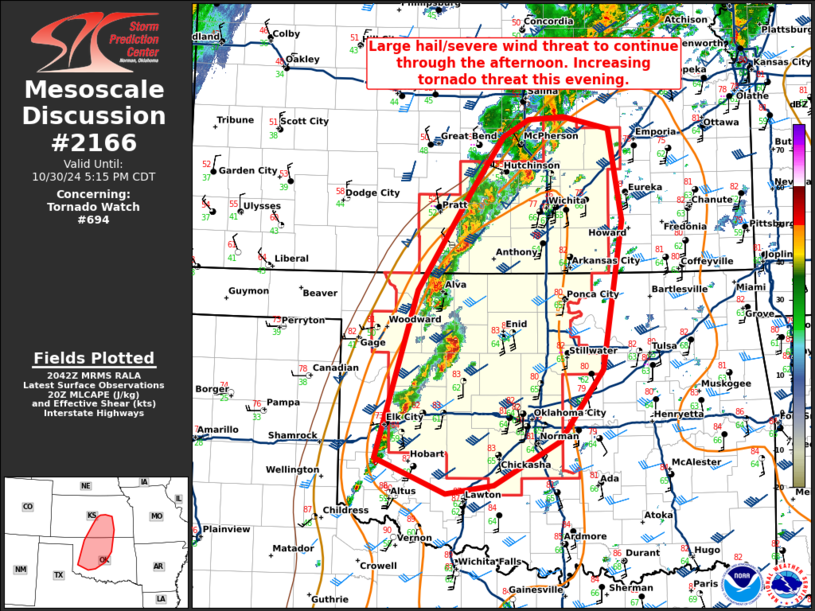 MD 2166 CONCERNING SEVERE POTENTIAL…WATCH POSSIBLE FOR CENTRAL/EASTERN OKLAHOMA AND NORTH-CENTRAL TEXAS


Mesoscale Discussion 2166
NWS Storm Prediction Center Norman OK
0827 PM CDT Tue Sep 19 2023
Areas affected…central/eastern Oklahoma and north-central Texas
Concerning…Severe potential…Watch possible
Valid 200127Z – 200300Z
Probability of Watch Issuance…60 percent
SUMMARY…Multiple ongoing supercells/supercell clusters in watch
686 will move east of the watch in the next 1 to 2 hours. A
downstream watch may be needed.
DISCUSSION…Numerous supercells have produced hail (some 2+ inch)
within watch 686. Some of these storms have congealed into supercell
clusters with a few discrete storms remaining. These storms are
expected to move east of watch 686 within the next 1 to 2 hours. The
OUN/DFW 00Z RAOB shows a very favorable environment with 1500 to
2000 J/kg MLCAPE and effective shear around 40 to 50 knots. Cooling
surface temperatures has led to some increasing inhibition, however,
the 00Z OUN RAOB still shows around 1500 to 2000 J/kg MUCAPE.
Therefore, given mature supercells and ongoing strong mesocyclones,
expect them to persist into the late evening and potentially the
early overnight hours. A watch may be needed downstream to cover
this threat.
..Bentley/Bunting.. 09/20/2023
…Please see www.spc.noaa.gov for graphic product…
ATTN…WFO…TSA…FWD…OUN…
LAT…LON 36179737 36289666 36279595 36169520 35479506 34249523
33219571 32599661 32509725 32509791 32519820 32619848
32899848 33499818 34009768 34409740 35099733 35439736
36179737