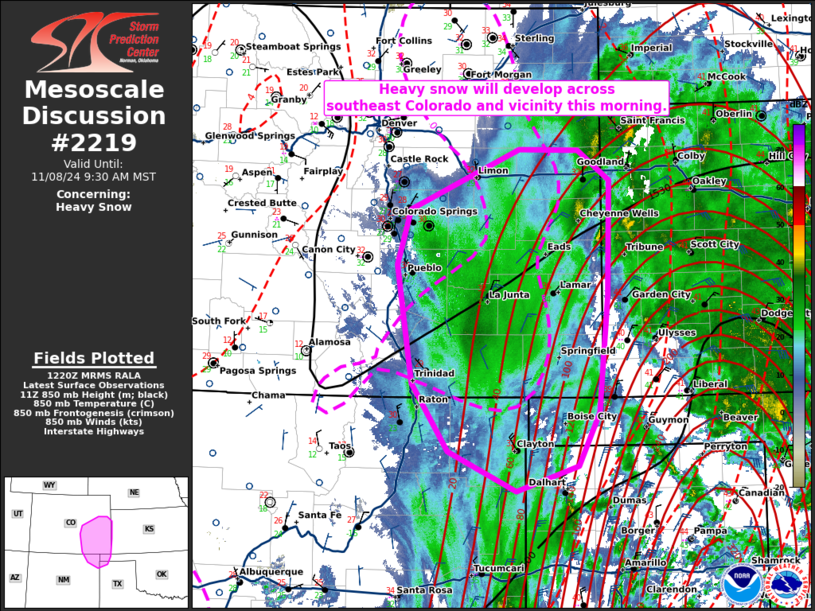 MD 2219 CONCERNING SEVERE THUNDERSTORM WATCH 699… FOR WESTERN KANSAS INTO CENTRAL NEBRASKA


Mesoscale Discussion 2219
NWS Storm Prediction Center Norman OK
0301 PM CDT Tue Oct 03 2023
Areas affected…western Kansas into central Nebraska
Concerning…Severe Thunderstorm Watch 699…
Valid 032001Z – 032200Z
The severe weather threat for Severe Thunderstorm Watch 699
continues.
SUMMARY…The potential for damaging wind gusts probably will begin
to increase through 4-6 PM CDT, as a squall line continues to
develop and propagate east-northeastward.
DISCUSSION…Increasing and intensifying thunderstorm development is
now well underway, and becoming focused within the narrow corridor
of most substantive boundary-layer destabilization near the leading
edge of the stronger mid-level cooling. This is forecast to
continue advecting northeastward and eastward across central
Nebraska and western Kansas through 22-00Z. As it does, ongoing
convection appears increasingly likely to consolidate into an
organizing squall line. Gradually, the downward transfer of 30-60
kt southwesterly flow (within the 850-500 mb layer) in downdrafts is
expected to result in increasing potential for strong to severe
surface gusts. And the strengthening gust front may be accompanied
by occasionally strengthening mesovortices with locally stronger
gusts and/or, perhaps, brief tornadoes.
..Kerr.. 10/03/2023
…Please see www.spc.noaa.gov for graphic product…
ATTN…WFO…OAX…ICT…GID…LBF…DDC…GLD…
LAT…LON 41799949 42039832 40349784 38299939 37960044 38570120
39460080 41799949