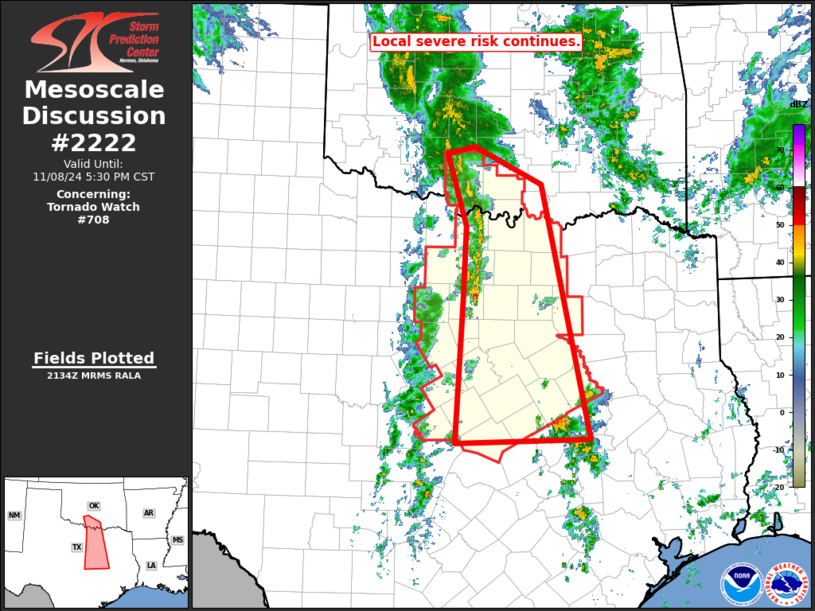 MD 2222 CONCERNING SEVERE THUNDERSTORM WATCH 700… FOR WEST TEXAS


Mesoscale Discussion 2222
NWS Storm Prediction Center Norman OK
0508 PM CDT Tue Oct 03 2023
Areas affected…West Texas
Concerning…Severe Thunderstorm Watch 700…
Valid 032208Z – 032345Z
The severe weather threat for Severe Thunderstorm Watch 700
continues.
SUMMARY…Isolated severe thunderstorms will persist across ww700
this evening. New severe thunderstorm watch may be issued across the
TX South Plains.
DISCUSSION…Isolated severe thunderstorms have developed over
western portions of ww700 early this evening. This activity is
evolving within modest southwesterly mid-level flow along an axis of
instability characterized by MLCAPE values on the order of 2000
J/kg. Weak height falls are noted ahead of the western US trough and
this may encourage some longevity of convection this evening,
especially as 850mb inflow is expected to increase later this
evening into this region. Over the last hour or so, new updrafts are
forming across northern portions of ww700, and thunderstorms may
begin to spread north of the watch. If this activity continues to
increase in coverage/intensity, new ww may be issued over the TX
South Plains.
..Darrow.. 10/03/2023
…Please see www.spc.noaa.gov for graphic product…
ATTN…WFO…OUN…EWX…SJT…LUB…MAF…
LAT…LON 30250350 33600176 33459987 30170154 30250350