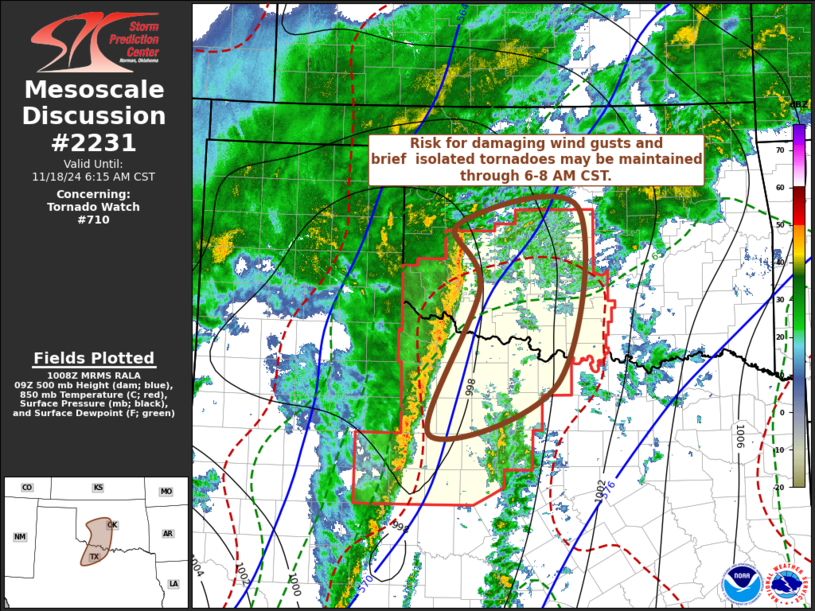 MD 2231 CONCERNING SEVERE THUNDERSTORM WATCH 704… FOR THE TRANS PECOS INTO THE PERMIAN BASIN


Mesoscale Discussion 2231
NWS Storm Prediction Center Norman OK
0351 PM CDT Wed Oct 04 2023
Areas affected…The Trans Pecos into the Permian Basin
Concerning…Severe Thunderstorm Watch 704…
Valid 042051Z – 042215Z
The severe weather threat for Severe Thunderstorm Watch 704
continues.
SUMMARY…The large hail threat will continue for a few more hours
before transitioning into a greater severe wind threat this evening.
DISCUSSION…A supercell developed rapidly off the Davis Mountains
this afternoon and split as it moved over Fort Stockton. Both the
right and the left split are showing MRMS MESH around 2 inches with
confirmed 1.5 to 1.75 inch hail. Additional storms have started to
develop between Midland and Lubbock and are expected to quickly
organize into supercells with a large hail threat. The LBB and AMA
VWP show 60+ knots of flow above 6 km which should continue to
support a very large (2-3 inch) hail threat, especially while storms
remain more discrete. Storms are expected to eventually cluster and
grow upscale with an increasing severe wind threat by this evening.
..Bentley.. 10/04/2023
…Please see www.spc.noaa.gov for graphic product…
ATTN…WFO…EWX…SJT…LUB…MAF…
LAT…LON 30100349 31010313 32620214 33200160 33430055 33369998
33109919 31619986 30220098 29840187 29780273 30100349