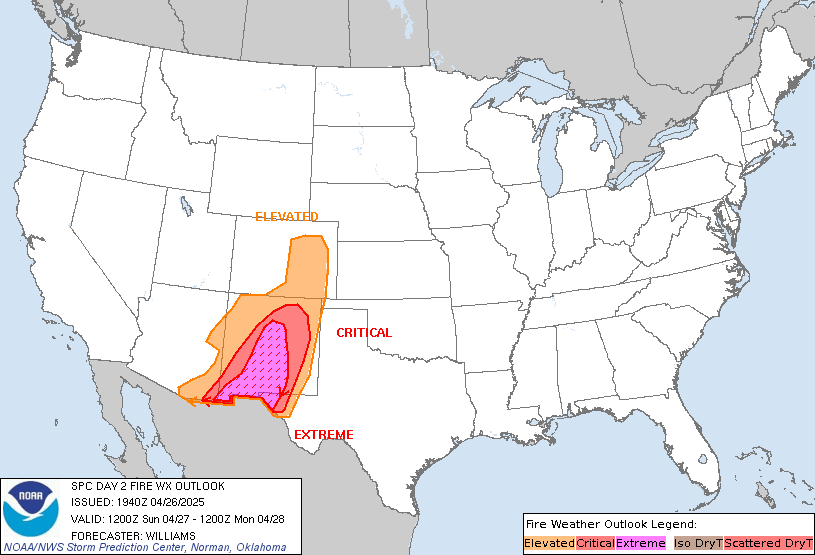 SPC Day 2 Fire Weather Outlook


Day 2 Fire Weather Outlook
NWS Storm Prediction Center Norman OK
0129 PM CST Wed Nov 29 2023
Valid 301200Z – 011200Z
…NO CRITICAL AREAS…
The previous forecast remains on track, with no changes or additions
made. Please see the previous forecast below for more details.
..Squitieri.. 11/29/2023
.PREV DISCUSSION… /ISSUED 0150 AM CST Wed Nov 29 2023/
…Synopsis…
A southern-stream midlevel trough accompanied by strong deep-layer
westerly flow will cross the southern Rockies, while an attendant
surface low tracks east-northeastward from NM across north TX. On
the southern periphery of the surface low, a tight pressure gradient
and boundary-layer mixing into the strong westerlies aloft will
yield 20+ mph sustained westerly surface winds (with higher gusts)
over portions of southeastern NM, the TX Trans-Pecos, and TX South
Plains. These winds, coupled with 25-30 percent RH, could support
locally elevated fire-weather conditions. However, the marginal RH
reductions (stunted by upper 20s/lower 30s surface dewpoints) and
limited fuels should mitigate the overall fire-weather threat.
Farther east over parts of the Ohio Valley and Great Lakes,
breezy/gusty southwesterly surface winds are expected along the
western periphery of an expansive surface high centered off the
Carolinas coast. Limited RH reductions should generally temper
fire-weather potential here, though receptive fuels may still favor
spotty elevated conditions.
…Please see www.spc.noaa.gov/fire for graphic product…