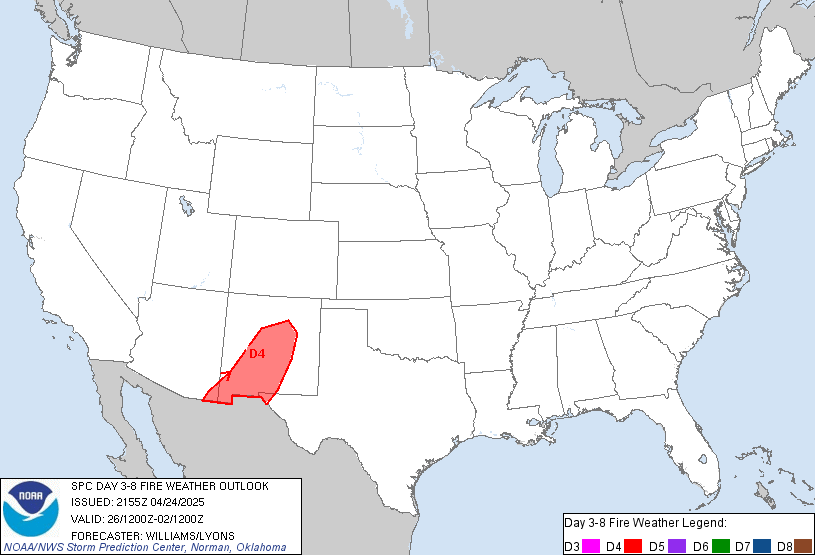 SPC Day 3-8 Fire Weather Outlook


Day 3-8 Fire Weather Outlook
NWS Storm Prediction Center Norman OK
0256 PM CST Fri Dec 08 2023
Valid 101200Z – 161200Z
The potential for fire weather concerns appears limited through the
extended period. Long-range ensemble guidance shows fairly good
agreement in the synoptic evolution beyond this weekend and into
next week. A stout surface high will become established east of the
Rockies in the wake of this weekend's upper trough (currently
deepening over the Southwest/Southern Plains) and attendant surface
low/cold frontal passage. This should favor cool and quiescent
conditions across much of the country with low fire weather
potential. A weak disturbance around mid-week should bring rain
chances to parts of the Plains, further limiting fire weather
concerns.
One region that may see localized fire conditions is southern CA
into the lower CO River Basin. While the offshore pressure gradient
is expected to abate Sunday into early next week, residual offshore
winds may support pockets of elevated fire weather conditions Sunday
into early Monday. The resumption of north/northeasterly low to
mid-level flow on the western periphery of a weak upper disturbance
mid-week, combined with persistent dry conditions, may support an
additional round of localized elevated fire weather conditions
around D7/Wed to D8/Thur. Trends across this region will continue to
be monitored.
..Moore.. 12/08/2023
…Please see www.spc.noaa.gov/fire for graphic product…