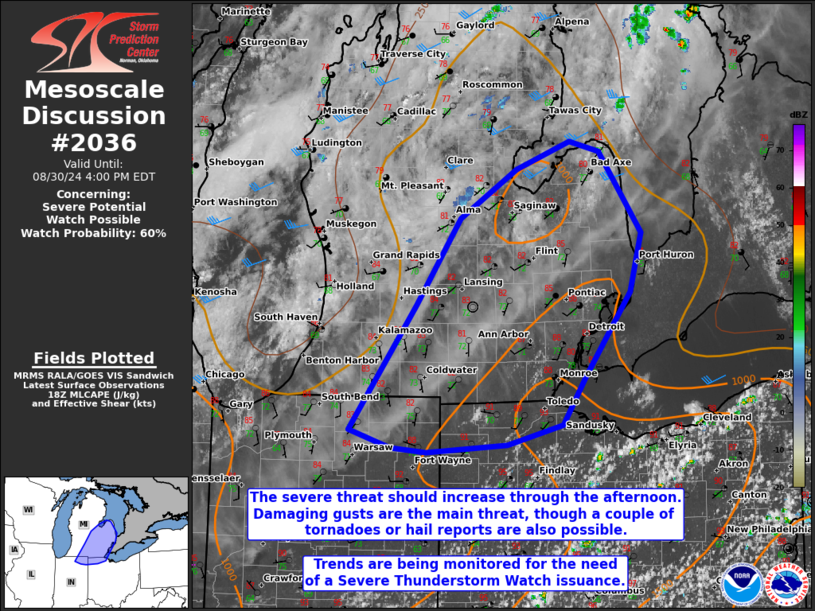 MD 2036 CONCERNING SEVERE POTENTIAL…WATCH UNLIKELY FOR NORTH DAKOTA


Mesoscale Discussion 2036
NWS Storm Prediction Center Norman OK
0120 PM CDT Thu Aug 24 2023
Areas affected…North Dakota
Concerning…Severe potential…Watch unlikely
Valid 241820Z – 242015Z
Probability of Watch Issuance…20 percent
SUMMARY…Elevated thunderstorms may pose a large hail risk over the
next several hours prior to more robust thunderstorms later this
afternoon/evening.
DISCUSSION…Building convective towers have been noted within a
band of mid-level altocumulus across western ND over the past hour
in GOES daytime RGB and low-level water vapor imagery. The zonally
oriented and slab-like characteristic of the altocumulus band and
the rapid east/northeast cloud motions suggest that this activity is
elevated, likely rooted near 700 mb where recent forecast soundings
show fairly steep lapse rates (near 8 C/km) and mid-level RH between
60-75%. A few lightning strikes have been noted with the deeper
towers, indicating that a gradual deepening trend is ongoing –
possibly being driven by broadscale ascent ahead of the approaching
mid-level trough.
This elevated convection has not be captured well by most guidance,
and with some mixed-layer inhibition lingering across the region, it
remains unclear if this activity will strengthen enough to pose a
severe threat in the near term. However, with diurnal
destabilization ongoing, it is possible that more robust cells
continue to intensify and pose a large hail threat through late
afternoon. Forecast soundings suggest the nocturnal inversion should
be mixed out by around 19-20 UTC, which may be when more robust
intensification takes place. Additional convection is probable along
an approaching cold front later this afternoon – most likely
around/after 22 UTC, which will likely pose a more robust severe
weather threat given stronger mesoscale ascent along the boundary
and favorable timing with peak diurnal heating. While unlikely,
trends will continue to be monitored for the near-term need for a
watch.
..Moore/Grams.. 08/24/2023
…Please see www.spc.noaa.gov for graphic product…
ATTN…WFO…FGF…BIS…
LAT…LON 47570356 48860129 48950055 48879998 48439926 47579872
47129893 46969933 46860176 46920285 46990338 47130369
47300374 47570356