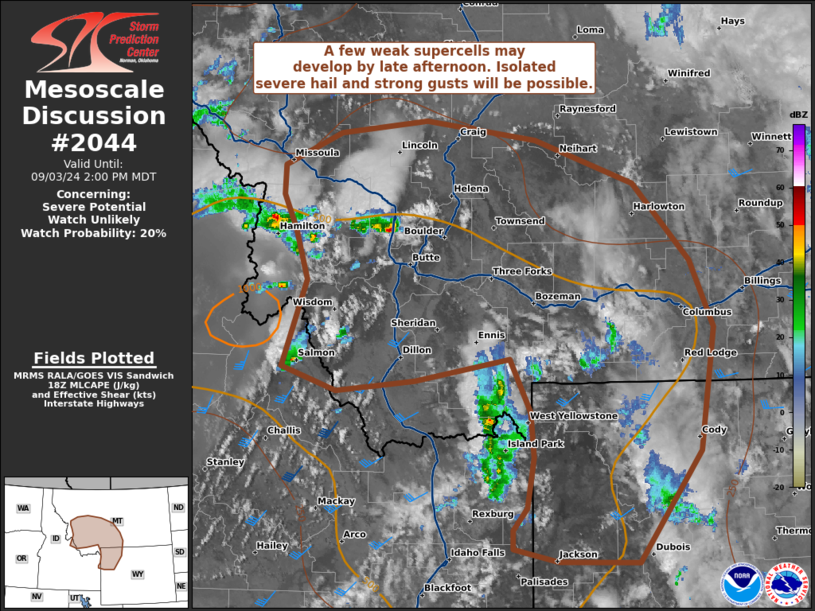 MD 2044 CONCERNING SEVERE THUNDERSTORM WATCH 657… FOR OHIO/WESTERN AND CENTRAL PENNSYLVANIA/WEST VIRGINIA/WESTERN MARYLAND PANHANDLE


Mesoscale Discussion 2044
NWS Storm Prediction Center Norman OK
0102 AM CDT Fri Aug 25 2023
Areas affected…Ohio/western and central Pennsylvania/West
Virginia/western Maryland Panhandle
Concerning…Severe Thunderstorm Watch 657…
Valid 250602Z – 250800Z
The severe weather threat for Severe Thunderstorm Watch 657
continues.
SUMMARY…Risk for damaging wind gusts continues across the Upper
Ohio Valley area and into the central Appalachians — in and near WW
657.
DISCUSSION…Latest composite radar loop shows widespread
thunderstorms across central and northern Ohio, western and central
Pennsylvania, and the West Virginia Panhandle. Aside from a cluster
of slightly elevated/post-outflow storms over northwestern Ohio, the
storms are largely organized into a few distinct bands.
Two of these bands have been slower-moving, and are now crossing the
higher terrain of the Appalachians in Pennsylvania. Weakening of
these bands has been noted with time, as storms encounter more
stable air along (and east of) the highest terrain.
Meanwhile, a fast-moving, bowing band of storms continues moving
rapidly southeastward across eastern Ohio and western Pennsylvania,
with the fastest-moving portion of the band over western
Pennsylvania advancing at around 55 kt. Several reports of wind
damage have been reported over the last 1 to 2 hours with this band.
With that said, as this band impinges on the aforementioned,
slower-moving lines of convection to the east, and encounters the
more stable air downstream, a gradual weakening trend is expected to
begin over the next couple of hours. With that said, in the short
term, damaging wind gusts are expected to continue as storms advance
southeastward.
..Goss.. 08/25/2023
…Please see www.spc.noaa.gov for graphic product…
ATTN…WFO…CTP…LWX…PBZ…RLX…CLE…ILN…IWX…
LAT…LON 41268409 41228304 40938115 40937986 41627938 41957764
40367747 39077958 38848134 39798346 40788424 41268409