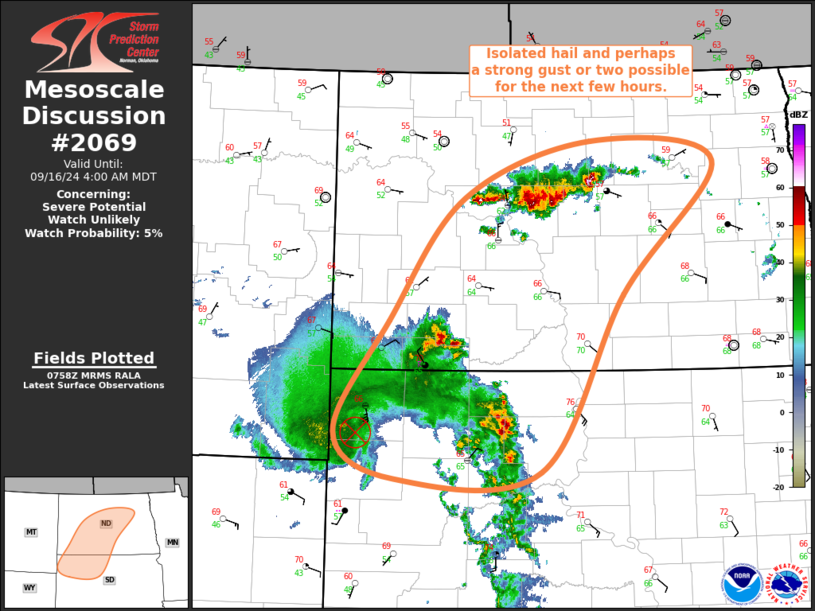 MD 2069 CONCERNING SEVERE POTENTIAL…WATCH UNLIKELY FOR WESTERN ND


Mesoscale Discussion 2069
NWS Storm Prediction Center Norman OK
1020 PM CDT Wed Aug 30 2023
Areas affected…western ND
Concerning…Severe potential…Watch unlikely
Valid 310320Z – 310515Z
Probability of Watch Issuance…5 percent
SUMMARY…Strong to severe gusts (peak gusts 50-65 mph) will be
possible for the next few hours across western ND as a thunderstorm
band moves east.
DISCUSSION…Radar mosaic shows an intensifying band of
thunderstorms near the northeast MT/northwest ND border region and
another linear cluster in southwest ND immediately ahead of a potent
mid-level shortwave low/trough. There has been a history of
ASOS-measured strong to severe gusts in eastern MT in association
with this convection during the past couple of hours. The recent
development/intensification of thunderstorms has coincided with a
long-lived thunderstorm cluster and its associated outflow reaching
a more moist airmass located over western ND (lower 60s deg F
surface dewpoints compared to 40s to lower 50s over eastern MT).
Steep 700-500 mb lapse rates evident on the 00z Glasgow, MT and
Bismarck, ND raobs (7 to 8 deg C/km) and strong large-scale forcing
for ascent will continue to promote strong to severe thunderstorm
activity. The confined spatial and temporal extent of the expected
threat will preclude the need for a small severe thunderstorm watch.
..Smith/Grams.. 08/31/2023
…Please see www.spc.noaa.gov for graphic product…
ATTN…WFO…BIS…
LAT…LON 48300389 48820398 49050265 48470182 47150142 46540204
46450317 48300389